Fairview Cemetery Association
Continuing a tradition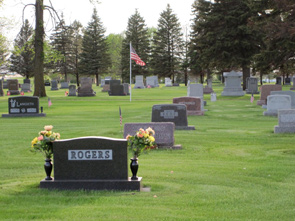 Located in Wahpeton, North Dakota, Fairview Cemetery and Memorial Gardens are non-denominational and offer a full range of services, including lots, crypts, niches, markers and monuments.
We provide a dignified, attractive cemetery and perpetual care that is personal and caring.
Our grounds are maintained by skilled staff, ensuring the finest facility in the Wahpeton-Breckenridge area.
Are you doing genealogical research? Visit our Interment Directory for more information.
News and announcements
Historic Information
Many obituaries are available with our directory at the Leach Public Library for those interred between the years of 1884 and 1983. We can e-mail a copy to you upon your request.
Projects
Using funds from your recent donations, we have been able to improve our storage garages. Volunteer help has allowed for new steel siding and shingles to be installed.
12 new spruce trees have also been planted.
Thanks you families and volunteers for making these improvements possible.
U S Flags
Thank you to the boy scout for assisting in the placement of flags for Memorial Day and the 4TH of July
Cemetery Book
Fairview Cemetery has a book for sale entitled "More Than A Name And A Date", volume 1. It includes cemetery interment obituaries from 1884-1929. The cost is $20 and can be purchased locally from the Red Door Art Gallery, Bagg Bonanza Farm, and the County Museum as well as from the cemetery. For an additional $5, you can have it mailed to you. Contract the secretary through our website email address.
Volume 2 of Cemetery Stories is now available. It includes interment obituaries from 1930-1939. Each book is a $20 and can be purchased at the Red Door Art Gallery, County Museum, Bagg Bonanza Farm, Bold Print, and through the cemetery. For an additional $5, one can be mailed to you.