Fairview Cemetery Association
Continuing a tradition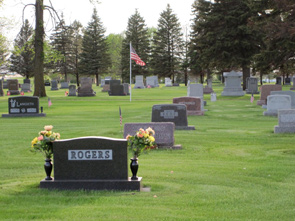 Located in Wahpeton, North Dakota, Fairview Cemetery and Memorial Gardens are non-denominational and offer a full range of services, including lots, crypts, niches, markers and monuments.
We provide a dignified, attractive cemetery and perpetual care that is personal and caring.
Our grounds are maintained by skilled staff, ensuring the finest facility in the Wahpeton-Breckenridge area.
Are you doing genealogical research? Visit our Interment Directory for more information.
News and announcements
Fund Drive
Time, traffic, weather, and North Dakota soil have led to road surface deterioration and drainage issues. To ensure the longevity of the cemetery grounds, funds are being raised to complete several projects.
We need your help. Visit the donations page for more information.
Historic Information
Many obituaries are available with our directory at the Leach Public Library for those interred between the years of 1884 and 1983. We can e-mail a copy to you upon your request.
Projects
Using funds from your recent donations, we have been able to complete the drainage/ditching project around the Garden of Christus and Prayer. With your help, we would like to continue our upgrades and begin work on the asphalt roads within the Cemetery grounds. Check out our new signage in both the north and south areas of the cemetery.
We have also been removing dead trees and hope to replace some of them with new varieties. The Cemetery Association has received memorials that have enabled us plant 12 new trees. Thanks you families!
Cemetery Flags
Thanks to the generous donations of many, we were able to purchase 32 new flags for display within the Cemetery on occasions that honor our veterans. What a wonderful site to see the bright stars and stripes against a blue sky! Thanks to the many volunteers who place and remove those flags.