Services and price list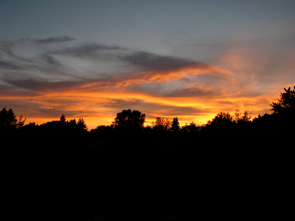 We invite you to review our services, lot availability, and prices. Fairview Cemetery Association urges you to make basic funeral arrangements ahead of time. Please contact us with any questions that you may have.
As required by law, we place 20% of all lot, crypt, and niche sales into a perpetual care fund.
Burial lots
Lots are available for purchase in Old Fairview (south 10 acres) and the Memorial Gardens (north 10 acres). We recommend self-storing vases for both locations.
Old Fairview
Memorial Gardens
Prices/lot

$375 (single or multiple lots)
"Babyland" area — $100

Garden of Christus – $500 (double lots only)
Garden of Prayer – $500 (double lots; single plot area is also available)
Center Garden – $600 (double lots only)
Garden of Peace- $150 (cremation inurnment only)

Size
42" x 8' (except "Babyland" area)
42" x 10'
Markers
Markers, stones, or monuments may be upright or ground level
Ground level stones or markers only
Burial fees
Service
Price
Plot restoration for traditional interments

$275
$200 extra — Weekend and holiday charge
$100 added for winter interments

Cremation opening and closing

$225 (small urn), $300 (urn vault)
$200 extra — Weekend and holiday charge
Mausoleum burial
Price
Opening/closing
Note
Crypt
$275
Casket required.
Niche
$600
$200
For cremation container; maximum size is 10 1/2" by 10 1/2" by 10 1/2".
For uniformity, name plates are supplied with the crypt or niche. Flower vases are also included in the price. There is an extra $200 charge for weekend or holiday placement.
Monument sales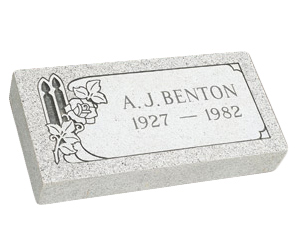 Fairview Cemetery sells from a complete line of ground level monuments and vases for traditional and cremation interments. You can choose from a variety of colors in either engraved granite or cast bronze. Our supplier is Granit-Bronz from Cold Spring, MN.
Purchases can be done "at need", or as "pre-need." Contact our Secretary to assist you and your family with this decision.
Marker fees
Service
Price
Note
We have new regulations regarding the placement and size of government Veteran plaques. Please contact the secretary if you have questions.
Setting fee for mouments purchased through another vendor, but set by our staff

$150 — up to 2 feet
$175 — 2 to 3 feet
$200 — 3 to 5 feet
$225 — 5 to 6 feet
$250 — 6 to 7 feet

Markers purchased through Fairview Cemetery include a small setting fee.
Raising or resetting existing marker

$50 — up to 2 feet
$75 — 2 to 4 feet
$100 — 4 to 5 feet
$150 — 5 to 7 feet

At the owner's request.
Vase holders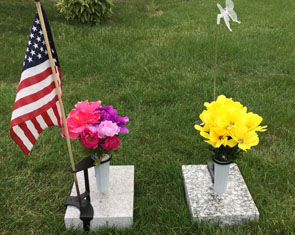 Fairview Cemetery has a vase option for families. This metal, painted vase holder slides along the edge of the granite and can accommodate a vase and flag or solar light. Because it fits over the granite, it can stay in place through the season. Each vase holder is $28 + tax of $1.96. You may purchase 2 for $50 + tax of $3.50. If you and your family are interested in purchasing a vase holder, or have questions, please contact us.